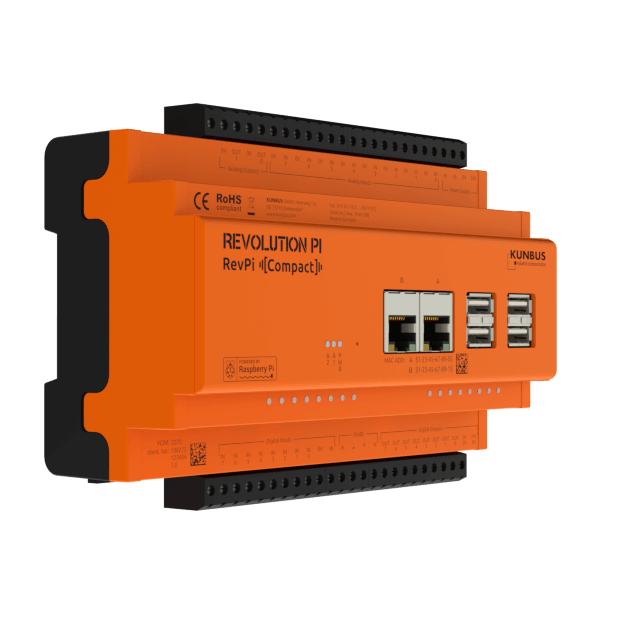 Drag image to spin
powered by Raspberry Pi Compute Module 3+
Due to the ongoing global semiconductor shortage, we have decided to temporarily suspend our e-shop. If you would like to purchase larger quantities, please contact our sales team directly at sales@kunbus.com for information on delivery times and ordering options.
The RevPi Compact is an open source compact controller based on the Raspberry Pi 3+ ­Compute Module. The open ­platform concept (including full root rights) allows the user maximum design freedom in the implementation of his projects. To connect sensors and actuators, the RevPi Compact is equipped with eight ­digital and analog inputs each as well as eight digital and two ­analog outputs. Two Ethernet interfaces (each with a separate MAC address) enable the ­device to be integrated in two different networks at the same time. In addition, the device has a 4-pole RS485 interface with screw terminals. The flat design makes it possible to install the device in a subdistribution system that is usually found in building automation.
A customized Raspbian with Real-Time Patch is used as operating system. Individual applications can be programmed via, amongst other things, Node-RED, Python or ­directly in C. The popular industrial protocols Modbus RTU and Modbus TCP are supported by default.
More Information

| | |
| --- | --- |
| Item no. | 100272 |
| Connectors | 4 x USB A / 2 x RJ45 Ethernet / 1 x HDMI / 1 x Micro USB / 1 x RS485 / 8 x digital inputs / 8 x digital outputs / 8 x analog inputs / 2 x analog outputs |
| Power supply | 12V - 24V |
| IP code | IP20 |
| EAN | 4260498390939 |
| WEEE-Reg.-No.: | DE 34461592 |